Make your Car Ready to Hit The Roads with Car Battery Replacement Services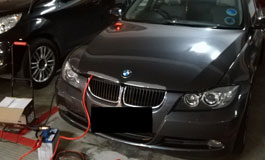 What is the first thing you pay attention to, when you are looking for a car? Probably, the engine capacity, fuel efficiency or car's battery. The battery is one of the most important parts of any modern vehicle. It performs a variety of tasks right from starting the engine to powering in-car computers. Most of the car owner's pay no attention towards the health of their cars until there come a time when they refuse to get started. Damaged or flat batteries are the common reason for roadside assistance calls and a huge amount of breakdowns.
When Seek Car Battery Replacement Services?
If your car is taking too long to get started or has old car batteries, chances are there you may need to replace your car batteries. The average life of a car's battery is 5 to 7 years. However, with proper care and maintenance, you can make your car's battery last longer. Some of the common conditions that depict something is wrong with your car are- engine of your car making cranking noises or taking longer than normal to start, swelling battery case, or low battery fluid level. All these are several signs that suggest something is wrong with your car's battery that needs to be fixed immediately.

Many car owners make a mistake of trying to fix the problem on their own and end up making the problem even more worse. One should always trust the job with the reliable and reputed professionals who have got rich knowledge and experience in the field. The right professionals will offer the most professional and cost-effective car battery replacement services in Singapore without burning a hole in your pocket.
It does not matter if your car battery has been showing warning signs or you are stuck on the roadside, you can have peace of mind that professionals can help you out with your needs.
Get Help Today!
Get in touch with the experts at Battery Express if you are looking for professional battery replacement services in Singapore. They service a wide variety of Japanese/Korean/Continental vehicles. Visit the website today for more details.