Seek Professional Jump Start Services To Hit the Roads Again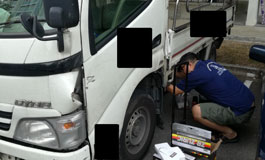 What is the worst thing that can happen to you when you are coming home after a party, stepped into your car to drive back. But what is this, your car refuses to start.  Well, in that case, there comes the need of professional
jump start services
to start your car so that you are not left in the middle of the road. Even if you have jumper cables, it would not be the right thing to ask anyone around to help you get your car started.  The professionals would not only help you tow your car, but also help you get it started.
Why Prefer Professionals Over DIY?
The dead car's battery is the worst thing that can happen to you, especially. when you have nobody to help you with your jumper cables. Many individuals make a mistake of trying to start their cars on their own with the help of jumper cables and end up doing more harm than good. We strongly recommend you not to mess up with the things that you are not knowledgeable about and call in the professionals who have the right knowledge, guidance and skills to perform the job.
The professionals use high-quality jump start cables and multiple starting batteries of varying amp-hours to start the batteries of different vehicles. They would take the time to examine the current state of your battery and alternator using a professional battery analyzer to determine if it is in the good working conditions.
Not just this, the professionals are always available to help you anywhere anytime.They would visit you for help when you are stranded on a road. You just need to tell them where you are and the experts would reach the location with all the tools needed to jump-start your car. Once they have fixed the problem, they would double ensure that your battery terminals are tight and clean.
Get the Help Today!
If you want your car to work in the best-possible condition, we recommend you to get in touch with the experts at
Battery Express
.They provide the most professional and car battery replacement services in Singapore.Visit the website today for more details.